DIC Corporation and Evosys Laser GmbH jointly developed the process-safe laser welding of PPS. By using EVOSYS Next Generation Optics, components made of the material can now be economically welded in series.
Tokyo, Japan, Erlangen, Germany: DIC Corporation and Evosys Laser GmbH have combined their experience in materials, and optics to make PPS laser welding a reliable process. First customer projects with real components are already in the final tests.
Laser welding has long since established itself as a joining process for polymers. The adaptation of thermoplastic materials to this process and advances in laser sources and optics make the use of the joining process more economical; the advantages: small heat affected zone, low mechanical stress on the joining partners, broad
flexibility in the weld seam geometry and high process reliability.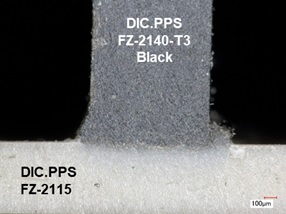 The process window using conventional laser welding for PPS plastic components is very small due to the semi-crystalline structure of the PPS compounds. However, the process window for the welding of PPS materials is significantly enlarged by optimized energy distribution in the so-called Next Generation Optics (EVOSYS NGO)
designed by Evosys. The uniform heat management in the PPS components considerably reduces temperature spots and the burning of the material, so that the output and quality of welded PPS assemblies is maximized.
This behaviour could be tested and proven both with material samples from DIC and with real plastic assemblies in two customer projects. The process monitoring methods used at Evosys ensure a stable process; the welded assemblies not only have the required tightness but also the required strength and fatigue strength.
About Evosys Laser GmbH and DIC Corporation:
Evosys Laser GmbH develops and manufactures tailor-made systems for laser welding of plastics at its Erlangen site. With the many years of market and process experience of its employees, the company offers creative and innovative solutions for integration into automation solutions worldwide. A service package ranging from design
consulting and sample production in the company's own pilot plant to after-sales service rounds off the product range.
Hyperlinks by PIMI
The last article about "EVOSYS" published at PIMI news channel was: At Productronica 2019 Solutions For Laser Welding Will Be Presented