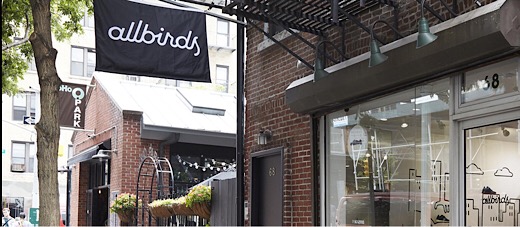 Being comfortable and light weight is a must in the shoe industry nowadays. To be the number one in the huge market of the shoes for the youth some famous brands like Nike, Adidass, Pooma and some few others are now have to face a challenge created by the "Allbirds" crowdy store at the heart of New York city; US.
The brands made and sold by Allbirds, invented and located at the Silicon Valley, are more than welcomed by the young generation from west to east and north to south of America. The Wall Street Journal at its today news desk has analysed this new brand that has been sold up to 2 millions pairs just in two years of its creation. In this regard, WSJ, writes:
*********************************************
How the 'World's Most Comfortable Shoe' Is Challenging Nike and Adidas?
Based on the news lead:
Driven by word-of-mouth sales and an eco-focus, San Francisco's Allbirds has sold over a million shoes in two years. But can this Silicon Valley success story last?
and according to the content of the article:
It's a random Saturday in May, and I can barely find enough free space inside Allbirds's Soho store to try on a pair of what the brand proclaims the "world's most comfortable shoes." I've been on rush-hour subway cars filled with fewer people. I have to ask a harried sales associate twice to get the $95 Wool Runner sneakers in my size. While waiting, I fondle a display shoe that looks like a pared-down version of an Adidas Yeezy Boost 350. Yet, while that shoe's upper is made from a synthetic material, the sneaker in my hand is knit from merino wool, making it resemble a winter sock affixed to a white rubber sole, with prominent laces as thick as bucatini.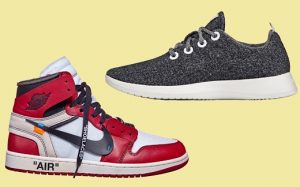 That white sole is covered in gray finger smudges from the shoppers who pass through the store each day. Many of them will join over a million others who've bought Allbirds in the San Francisco-based brand's first two years in business. Though Allbirds has been profitable since launch, the Bay Area has seen plenty of companies who set out with high-minded plans to make a better widget, only to wind up bankrupt in short order. Thus far at least, Allbirds squishy, eco-conscious sneakers represent a rare Silicon Valley success story in the clothing industry.
It all comes back to the wool. The idea to build the business around a natural fiber came to co-founder Tim Brown, a native of New Zealand, or as he calls it, "the land of 29 million sheep." He started small, with the Wool Runner, and has maintained Allbirds' micro scale. While Nike and Adidas pride themselves on vast product lines and high-voltage collaborations with fashion personalities like Virgil Abloh, Alexander Wang, Pharrell Williams and Kanye West, Allbirds sells just three simple unisex shoes: the "runner," an even more pared-down slip-on "lounger" and the brand's latest innovation, a loafer-trainer hybrid made from Eucalyptus pulp.
At a time of loud sneakers, Allbirds' three models are practically mute. They're the black Camry of the sneaker world: You don't notice them on other people's feet, until one day you do, and then, they are inescapable. Allbirds (which is privately held and does not disclose financial figures) claims to have sold over a million shoes since 2016. That's a healthy, but far from Herculean figure when stacked against the billion-dollar businesses of Nike and Adidas. And yet, in an industry dominated by these legacy brands, Allbirds, a miniscule Silicon Valley outfit, is disrupting just about every convention in the sneaker world.
If you like this article, please read the whole article at its publications source: WSJ
Hits: 0