Austria: Where the Train Stopped, A Giant Industry Born
PIMI special report and condolences:

The news at the "Global ENGEL" website was too short but had a long effect on our hearts:
However when we decided to publish it, there was a break warning from the CEO: This is not a simple Sorrowing news, they have been important industrial characters, they are part of our century's industrial memos and they need more respects than a simple news.
Today we received all we were looking for about "Irene and Georg Schwartz"; A collection of texts plus the memories of the PIMI's CEO about one of the most lovely industrial couples in the world of plastics industry. The memo says:
"in 1987, during the summer time I had arranged to meet with the "Kiefel"'s MD and then fly to Austria to meet the managers of "ENGEL" to purchase new injection moulding and sheet forming machines according to the development plans of our 3 factories. Seating in the train from Munich to Freilassing (a small town in the Austria-Germany border) I felt a deadly chest pain and a deep heart failure. I tried to be on time at the "Kiefel"'s Conference room, but they recognized my unrest and transferred me to the only (I think) General Hospital of the town. The 2nd day I asked the CCU staff for a phone call to "ENGEL" in order to inform them of a possible cancellation of our meeting. Physicians at the hospital had advised me to return back home as soon as possible and have 60 days rest. When I spoke to her and explained the serious condition, she answered: "Don't worry, we manage your case……….". A couple of days later, when I received the green light from the specialists to get out of the bed and back home, I didn't face with any problem: No hospital payment, no transferring problems to Frankfurt airport and nothing. Years later and during one of the "K" shows, I faced with the fact: She was "Irene Schwarz who had managed all the convenience for a possible -unknown at the time- customer", and even later, we had other friendly meetings in other events. I never forget them and I never forget about the Austrian and the German's infinite friendly behaviour".
**************************************
About "Irene and Georg Schwartz":
"Irene and Georg Schwarz" belonged to the Donauschwaben : A collective term for the German-speaking population who lived in various countries of southeastern Europe, and their both families were refugees of the World War II.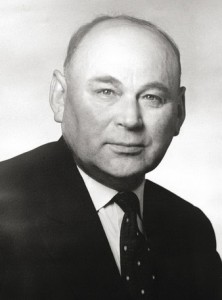 In October 1944, Mr. "Ludwig Engel" a Serbian originality, decides to move from "Belgrade" to Upper Austria along with his wife Elisabeth, his daughter "Irene" and other relatives. in Dec. 1944, after multiple stops in camps in Vienna and Korneuburg they end uo at the "Schwertberg Station" and the train simply went no further. The railway conductor said to passengers that: "You had to get out and stay here". And, the "Schwertberg Station" was the land that they remained in until today and struck new roots inside the plastics industry. This is a historical fact that; "Where the train stopped, a giant industry born"
"Irene Engel", born in Christmas 1929, was involved with the company that her father, "Ludwig Engel", founded in 1945, for over 70 years.  She worked at "ENGEL" from the very beginning, taking on the tasks of bookkeeper, financial director, controller and director of human resources, all at the same time. In reality, she was only 16 when she became the right hand of her father as a bookkeeper in his small workshop.
Grown up to the 2nd decades o her life, she became a fellow of "Georg Schwarz" a Croatian with the same fate and the one who was only a couple of years older than "Irene". In 1951, almost three years after the first patent was issued to "ENGEL" plastics presses and at the time that she was only 22 with considerable job duties, she married with Georg and became "Irene Schwarz". A happy marriage which ended in late March 2016.
After the sudden death of the "Ludwig Engel" in 1965, the couple took over the management of the "ENGEL" and since then, hand to hand, they started to promote and to develop Ludwig's factory to a worldwide famous Injection Moulding Machine Manufacturer. "Displaying courage combined with a remarkable nose for industrial trends and promising markets, they guided the company onto a path of growth that continues today. They expanded abroad, establishing foreign subsidiaries and opening two production plants in North America, while at the same time setting the course for the system solutions business in the 1980s with the development and production of the company's own robots." Plastics Today says in an article.
In late March 2016, when "Irene Schwarz" passed away in age 86, "Georg" thought that he should not leave her 65 years' fellow alone anywhere that she might be and so, he also passed away a few days later and created an almost forgotten "industries' love stories".
PIMI CEO and the whole "Editorial Team" offer their sincerest condolences to the owner family and the staffs of "ENGEL" on the occasion of "Irene and Georg Schwarz" the senior directors of the "ENGEL", and invites its readers to read more (if they are interested) about the story at the following links:
Austria: Where the Train Stopped, A Giant Industry Born