Iranian Polymer Market Experienced Lowest Trade Last Week
Last week due to the end of Ramadan and a week with two consecutive holidays on the occasion of "Eid-al-Fatir" which practically resulted in a one full vacation of many private companies, for the first time at this Iranian year of 1396 (March 21st 2017- March 20th 2018) the volume of supplied (offered) polymers by petrochemicals faced with such a limit of decline.  At this year and at each week the amount of supply volumes have always been more than 70.000 tons.
According to the news released by stock exchange experts, at the first week of Tir Maah (the 4th Iranian calendar month= June 22-29th) the IME hall experienced the lowest trade volumes due to religious holidays. Though at the previous week the volume of offers were about 61.000 tons.
During the last week the total volume of deals faced with more than 8000 tons, were the IME hall experienced more than 17.000 tons of demands and near 10.000 tons decline in supplies (note to table 1 below). This shows a total of more than 26.000 tons of decrease in polymer supplies.
Table 1: Comparison Charts for weeks: June 18th – 25th (2 weeks ago) and June 25th – July 2nd 2017 (last week)
Comparison table for polymer markets in Iran between two above weeks
PIMI.IR Portal
2 Weeks ago
Last Week
Deviation (+ / -)
Total offers (tons)
70748
60939
-9809
Total Demands (tons)
89849
72629
-17220
Trade Volume (tons)
43067
34971
-8096
US$ for calculation of the base price for deals at IME: For 2 weeks ago, 1US$= 37.450 Rials and for Last week the committee  decided to keep all prices constant for the 3rd month of the Iranian Calendar and the two first weeks of next month. The price of 1US$ at the free market was 37.650 Rilas.
Notice: The US$ price and base price definitions were neglected for the first week of the 4th months of Iranian Calendar (June 22nd-July 22nd)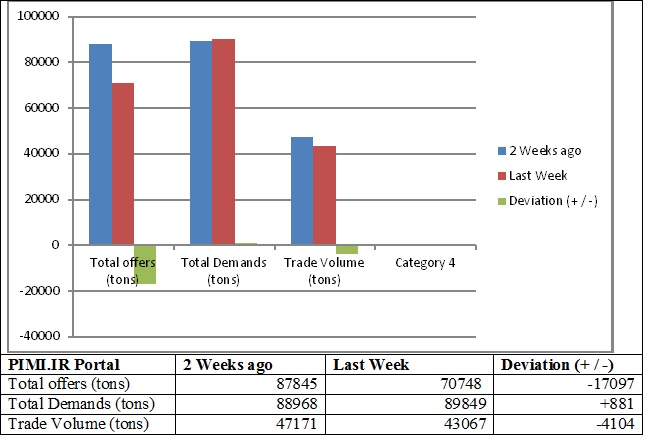 The highest decrease in supplies belongs to blowing grades of HDPE with 3000 tons of less polymer offers. Also film grade of LDPE has experienced a decrease of about 2502 tons, where the LLDPE showed 2057 tons of decreasing in offers. At the same time the injection grade of HDPE faced with 1230 tons in supply.
However, the injection grade of PP with 272 tons increase showed an increase in supply of this polymer. As far as demands are concerned, the highest demand belonged to the grade ZR230C of PP which recorded more than 13.000 tons and so found a very competitive price in the polymer markets. Table 2 shows the comprehensive situation of polymer deals during the last low volume polymer market in Iran.
Table 2: Materials Statistics Between June 18th-25th (2 weeks ago) and June 25th -July 2nd  2017 (last week)
 
Grade
Offers

(Two week

ago-tons)

Average

Base Price

(Last Week)

Highest

Sold Price

(Rials)

Offers

(Last Week)

(tons)

Demands

(Last Week-tons)

Trade

Volume

(Tons)

Offers

Deviations

Volumes +/-

ABS
 
 
 
 
 
 
 
 
 
Natural-50
70
67845
75600
 
190
70
+20
 
Natural-75
0
0
0
0
0
0
0
HDPE
 
 
 
 
 
 
 
 
 
Blowing
6832
36238
37359
2832
772
772
-3000
 
Extrusion
7312
40518
41204
6812
6384
5340
-500
 
Injection
2625
36452
36452
1395
154
132
-1230
 
Film
4550
38253
38.353
4704
1280
1126
+154
 
Rotational
433
38092
38957
0
0
0
0
LDPE
 
 
 
 
 
 
 
 
 
Film
10008
41016
45118
7506
5572
3286
-2520
 
Injection
 
41724
45869
110
550
110
??
 
 
 
 
 
 
 
 
 
LLDPE
 
 
 
 
 
 
 
 
 
Film
8283
38022
39325
6226
4224
3962
-2507
 
 
 
 
 
 
 
 
 
PC
 
 
 
 
 
 
 
 
 
 
 
 
 
 
 
 
 
PET
 
 
 
 
 
 
 
 
 
Bottle
4840
33644
38219
5038
10549
5038
+198
 
 
 
 
 
 
 
 
 
PP
 
 
 
 
 
 
 
 
 
Injection
2367
42704
46974
2639
24167
2061
+272
 
Fibre
8763
37679
39019
8017
11294
7973
-746
 
Film
528
38032
41836
0
0
0
0
PS
 
 
 
 
 
 
 
 
 
EPS
250
48655
52890
0
0
0
0
 
GPS
2050
46657
46657
2250
1120
680
+200
 
HI-Impact
600
49618
49618
600
0
0
0
PVC
 
 
 
 
 
 
 
 
 
Susp'n
9102
31318
34449
8194
5326
3504
-908
 
Emol'n
308
33823
40587
308
1694
308
0
 
 
 
 
 
 
 
 
 
SBR
 
 
 
 
 
 
 
 
 
Dark
590
45547
45547
210
105
105
-380
 
Bright
1020
49086
49086
720
62
62
-500
 
 
 
 
 
 
 
 
 
Iranian Polymer Market Experienced Lowest Trade Last Week