Manufacturing European Quality at an Iranian Facility; Just Unbelievable!
Having a flight with a plane that less than a week ago the similar one "killed more than 66 people" from our compatriots may not have been be so wise. But the eagerness of visiting a domestic processing machine manufacturing unit claiming the export of several extruders, moulds and dripping strip lines  to the Russia and Eurasia region, and publishing the "news" at our website, was an important task at the position of the CEO of this website. I, had to watch it with my own eyes.
At 7:20 am, on the morning of February 21st, a small "ATR 72" plane belonging to the same airline (Aseman, with an excuse-less MD) and with flattened front tires, took another 66 of us from Tehran's Mehrabad airport and landed after 45 minutes on the international airport of the historical city and the heart of the Iranian history, craftsmanship and modern industry:Isfahan. Less than half an hour later, I and the Chief-Editor of the Plastics Industry Monthly Magazine "PIM" (Mr. Roozbeh Saatchi, also a contributor to this Portal), were at an amazing manufacturing facility. The multi halls, multi sites of Alborz Machine Jay "AMJ Co.". The visit could have been managed for several days, but we had to do it for about 9 hours.
First things first, was our plan, and in a very short time we found the facility more than open to us. Open minded owner (Eng. Alireza Chavoshi) and Open minded co-workers and engineers, all of them with open hearts. So, in a blink we felt we are at our own home or manufacturing facility. Though, after an opening working breakfast for an hour or so, we insisted to visit the typical exported machine or the manufacturing line.
What we saw a little bit later was not only a sample model, but rather, many lines ready to be assembled (images at the end of report) one by one for dispatching to old and new customer. I asked for possible photography and Mr. Chavoshi said:" You are welcomed, but we preferred to do our job quite, without noisy propaganda and of course we have our secrets for us. You know how to do your job."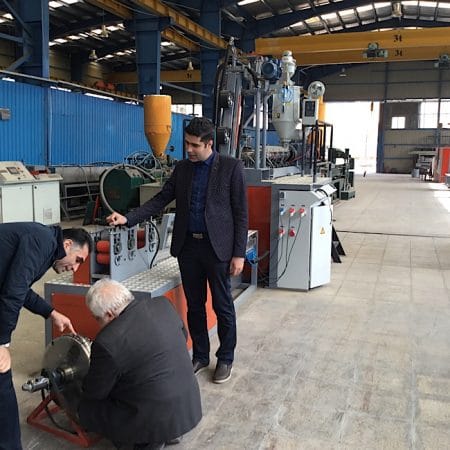 On returning back to Teheran I had several challenges with the PIM's Chief-Editor about what to do with what we saw and with about 200 photos, even, their top secret 1200 sqm [email protected] hall. He, Mr. Chavoshi (the one lent and explaining a fantastic high quality mould -top image- at the left photo) and Mr. Rangraz (the young engineer standing and hearing us) on a short relax when heard about one of my machinery ideas, dazzled on us and decided to show us what they are doing for near future, that then, dazzled me after 40 years of being in touch with the Iranian machine manufacturers. I just couldn't believe it! And just said: "I apologies Mr. Chavoshi for being so negligent about your company".
Now, what we have is a lot, a lot not to say as promised, but, to think and be proud of the Iranian machine manufacturing. As a brief, we saw:
1- The manufacturing sites of AMJ in multi halls and sites at the Isfahan's Jay District Zone;
2- The manufactured large tube moulds for large tubes like what the European companies are proud of;
3- The folding moulds (for me, the first time in my life);
4- The very high quality moulds for production of Irrigation soft tubes or as they say, the dripping strips taapes;
5- The turnkey machines for tubes, strips, dripping tapes, irrigation systems, etc.;
6- The screw and cylinder facility;
7- An an amazing machine under construction for production of multi-material product which will save the planet.
All I can say is to wish all the success for AMJ Co. owner and staffs.
We will have other reports about AMJ company.
PIMI is allowed to give further information to those who are interested. If so, please write directly to:
By referring to this article at the subject line.
Manufacturing European Quality at an Iranian Facility; Just Unbelievable!