President Rouhani Calls for the Nations Hand Shaking
President Rouhani Calls for the Nations Hand Shaking

Following the Supreme Leader's New Year Message, on his broadcasted message, President "Hasan Rouhani" asked the Nation to extend their hands for economical growth. That parts of the Iranian President's new year message which reflects his aims and plans for the economical growth of Iran in this Iranian new year and is compatible with the policies of this Portal is briefed hereinafter
"God willing with the help of the great nation, the government will achieve the average economic growth of the past 10 years"
Felicitating the Iranians and other nations' expatriates celebrating "Nowruz" and calling for national solidarity and disavowal of divide, conflict and violence, The Iranian President citing the Supreme Leader's designation of the year of solidarity and sympathy, commented about last year's of Iranian victories and said: " last year was full of pride and memorial for the nation" Then, pointing to the last year's highlights of "Joint Comprehensive Plan of Action" (JCOPA= BARJAM in Persian Language) he continued: "Our great nation victoriously reached agreement with the adversaries and prepared the ground for economic cooperation, lifting sanctions on banking, oil, petrochemical industry, insurance, transport and the nuclear-related restrictions."
Referring to extensive turnout in the general election on February 26 he confirmed that: "It was the day of national power showing the stability and peace prevailing in Iran" and backed-up his words by saying that: "Last year was full of victories for the nation's vis-à-vis the restrictions created by the western governments and in terms of initiating preparatory works for economic development in all fields."
The Iranian President also said that: "Although there have been difficulties due to the oil price falls during last year, but, my colleagues at the Government's administration managed to handle the situation. I can say that we had the best situation compared to other oil exporting countries. At the same time, we managed to cut inflation and we did not have sharp falls in the stock exchanges. Thank God, we didn't take loan from the central bank and instead we extended our hands to the people and sought help from the Almighty. God helped us leave behind the ordeal. Now, we have commenced the new year, 1395, we pinned hope in the nation and believe that we can build a prosperous Iran together".
By assuring that "The government will bring five percent economic growth by public contribution" and confirming that "Iranian economic growth will be more than all the neighboring states in near future" he hoped for bringing back the workers to the factories and farms and bring the young graduates to the market in the context of "BARJAM" and the 2nd BARJAM (Iranian abbreviation for JCOPA)**
Calling for the hand shaking of the Nation with the Government for economical growth and naming the Iranian new year as: "The year of Hopes, Practices and Dialogues" as the main foundations of "Resistance Economy" were the main economical focal points of the Iranian President Hasan Rouhani on the occasion of the year: 1395.
*********************
** Barjam is the Persian terminology for the Joint Comprehensive Plan of Action and the term 'second Barjam' has been publicized by the president immediately after implementation of JCPOA with national connotation in reference to national reconciliation and the preparatory works the government must carry out in solidarity and unison with the political parties.
**********************
About the "Iranian President":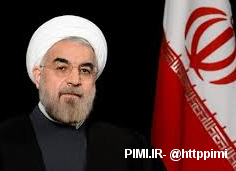 "Hassan Rouhani"
is the seventh President of Iran, in office since 2013. He is also a former lawmaker, academic and former diplomat.
Wikipedia
President Rouhani Calls for the Nations Hand Shaking