The Second Iran Petrochemical Value Chain Summit Finalized in Paris
The two days summit for absorbing foreign investors for Iran's Petrochemical industry finalized after two days of speeches of the Iranian and some foreign authorities in Paris.
According to the news broadcasts by some Iranian news agencies, the new NPC managing director (Mr. Reza Norouzzaeh) voiced Iran's readiness to absorb foreign direct investments in the industry.
Speaking on the sidelines of the summit on Iran's petrochemical industry in Paris, Reza Norouzzadeh, CEO of the National Petrochemical Company (NPC), said that implementation of current and future projects of the Iranian petrochemical industry requires around $100 billion in fresh investment; "therefore, we are committed and ready for any cooperation and partnership with investors."
"In the field of local manufacturing in terms of technical savvy, technology, manufacturing of parts and items etc., vast potentialities in this industry, especially in Arak, Isfahan, Shiraz and Mahshahr, have been created. Currently, many of the equipment and catalysts needed in the industry are supplied from the domestic market," he said.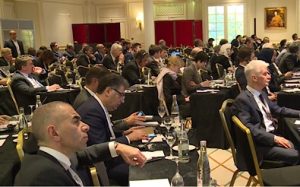 The official, who is also deputy petroleum minister for petrochemical affairs, further touched on the value of Iran's petrochemical exports and the industry's production plan in the future.
"Today, the value of Iran's petrochemical exports is around $14 billion, which is estimated to reach $50 billion by the end of the sixth development plan (to 2022) with 100 million tons of annual petrochemical output in the country," he said.
Iran-Europe Business Center (IEBC) and IICIC organized the 2nd Iran Petrochemical Value Chain Summit "Investment & Development ", with the support of Iran's National Petrochemical Company (NPC) on 26-27 April, 2018 in Paris.
Iran is committed to boosting its petrochemical and refining capacities and attaining the first rank at regional level by 2025.
This Summit focuses on exploring all possible ways and means for comprehensive development of Iran's mid & down-stream sectors via joint ventures, attraction of international financiers & investors, technology transfer, active presence in international markets and addressing the main existing challenges. Additionally this event will create a dynamic opportunity for business networking & interactions as well as holding B2B & B2G meetings with Iranian high ranking officials, managers and experts.
The Second Iran Petrochemical Value Chain Summit Finalized in Paris