World Premiere of FDU Technology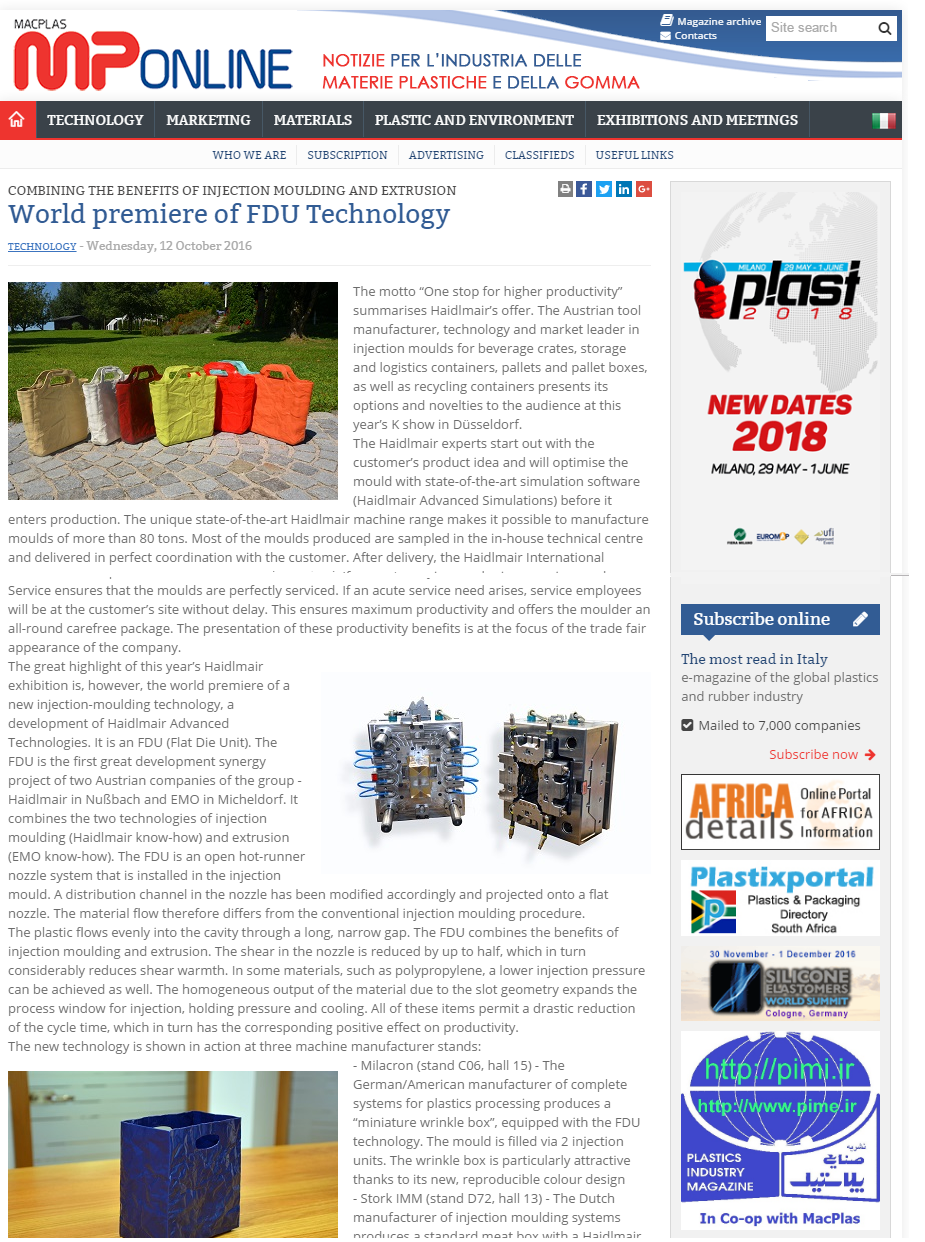 COMBINING THE BENEFITS OF INJECTION MOULDING AND EXTRUSION
World Premiere of FDU Technology
The motto "One stop for higher productivity" summarises Haidlmair's offer. The Austrian tool manufacturer, technology and market leader in injection moulds for beverage crates, storage and logistics containers, pallets and pallet boxes, as well as recycling containers presents its options and novelties to the audience at this year's K show in Düsseldorf.
The Haidlmair experts start out with the customer's product idea and will optimise the mould with state-of-the-art simulation software (Haidlmair Advanced Simulations) before it enters production. The unique state-of-the-art Haidlmair machine range makes it possible to manufacture moulds of more than 80 tons. Most of the moulds produced are sampled in the in-house technical centre and delivered in perfect coordination with the customer. After delivery, the Haidlmair International Service ensures that the moulds are perfectly serviced. If an acute service need arises, service employees will be at the customer's site without delay. This ensures maximum productivity and offers the moulder an all-round carefree package. The presentation of these productivity benefits is at the focus of the trade fair appearance of the company.
The great highlight of this year's Haidlmair exhibition is, however, the world premiere of a new injection-moulding technology, a development of Haidlmair Advanced Technologies. It is an FDU (Flat Die Unit). The FDU is the first great development synergy project of two Austrian companies of the group – Haidlmair in Nußbach and EMO in Micheldorf. It combines the two technologies of injection moulding (Haidlmair know-how) and extrusion (EMO know-how). The FDU is an open hot-runner nozzle system that is installed in the injection mould. A distribution channel in the nozzle has been modified accordingly and projected onto a flat nozzle. The material flow therefore differs from the conventional injection moulding procedure.
The plastic flows evenly into the cavity through a long, narrow gap. The FDU combines the benefits of injection moulding and extrusion. The shear in the nozzle is reduced by up to half, which in turn considerably reduces shear warmth. In some materials, such as polypropylene, a lower injection pressure can be achieved as well. The homogeneous output of the material due to the … .
Read More From The Source


World Premiere of FDU Technology