Due to its importance, specially for those readers of our PIMI digital news website who had no chance to visit K2022, we have chosen the following article which was briefly published by Dr. Cornelia Jokisch in LinkedIn.
The full copyright of the text (except hyperlinks) belongs to K MAG of Messe Dusseldorf, and where applicable we have added the further copyrights of photos.
************************************
ADAM could redefine the rules of the game in plastics manufacturing. A big claim, but not without reason: Behind the acronym ADAM is a piece of software called "Advanced Dimension Additive Manufacturing," which attracted not only curiosity but real attention at K 2022. The impressive result of this software in action? A powerful screw extruder controlled by an agile jointed-arm robot.
In this interview with K-MAG, Lukas Pelzer (following image), one of the brains behind the technology, delves deeper into the world of ADAM. He explains how this software is revolutionizing the production of plastic components and why it could be a milestone for sustainable and innovative manufacturing methods. A look into the future landscape of the plastics industry, which ADAM could significantly shape.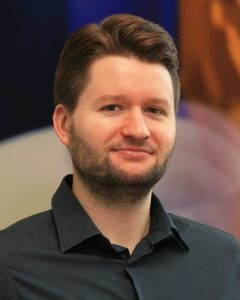 What is ADAM? How can we picture the production method of ADAM?
Lukas Pelzer: ADAM is a software solution for the optimal calculation of webs for material-extruding additive manufacturing. Instead of the conventional layered construction method, ADAM enables three-dimensional, non-planar deposition of individual strands and layers that precisely follows the contours of the component. This results in higher-quality surfaces without visible steps.
ADAM also addresses the challenge of anisotropic component properties: Specific strand alignment along load paths can increase strength and stiffness and create isotropic components when needed, especially when using fiber-filled plastics. The process also allows customization of existing parts by printing directly onto their surfaces, combining the benefits of mass production with the freedom of additive manufacturing. Best of all, ADAM is suitable for a wide range of machines, from simple 3D printers to industrial equipment.
What types of plastic can be processed with ADAM?
Pelzer: The ADAM software is not limited to a specific type of plastic. It was developed to support additive manufacturing using screw extrusion – a process that has been under research at the Institute of Plastics Processing at RWTH Aachen University since 2015. With our specially developed screw extruders, we can process a wide range of thermoplastics in pellet form. These include common materials such as polylactide (PLA) and acrylonitrile butadiene styrene (ABS), but also polyamide (PA), polypropylene (PP) and thermoplastic elastomers (TPE) with low Shore hardness. Even polymers with high filler content, such as 30 wt% carbon or 50 wt% long glass fibers, can be processed. Our latest screw extruder version, weighing less than 10 kg and with a discharge of up to 4 kg/h, is particularly suitable for jointed-arm robots. Due to their rotational axes, these offer additional degrees of freedom, which are optimally utilized by the ADAM process.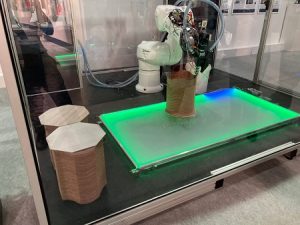 For a long time, the technology was only used to create prototypes: What steps did you have to take so that final components can now also be produced?
Pelzer: Three aspects are crucial for the successful production of final components:
Copyright: IKV
optimal surface quality with minimal post-processing
good mechanical component properties such as strength and stiffness
short production times
The combination of an articulated-arm robot with a screw extruder specially designed for additive manufacturing enables significantly faster manufacturing processes than with filament-based systems. By creating a deposition strategy suitable for the component using the ADAM process, the required high surface quality can be achieved. At the same time, strength and stiffness are matched to the load case that occurs.
What are the advantages of 3D printing like ADAM's over the conventional production of plastic components?
Pelzer: Above all, it is always important to choose the right manufacturing process for the application at hand. Additive manufacturing or 3D printing is becoming more and more common due to the rapid development of the technology and is already being used successfully for small to medium-sized production runs. Advantages of the technology include:
Flexibility: 3D printing allows the production of virtually any geometry, including complex internal structures, without special setups.
Agility: companies can respond quickly to market changes because additive processes do not require part-specific tooling. Product adaptations or revisions can be implemented directly and without additional costs.
Efficiency: 3D printing minimizes production waste because material is deposited only where it is needed. The ability to produce complex parts in one step and the suitability for decentralized manufacturing reduce storage requirements and transportation, resulting in time and emissions savings.
How do you see the future of ADAM: How do you think companies will use the technology?
Pelzer: The future of ADAM lies in further unlocking the potential of additive manufacturing. We are convinced that software like ADAM will unleash the full potential of both small desktop systems and industrial robotic systems. Therefore, we are launching the spin-off of the institute "Layer Performance", which specializes in software development for path planning and control of additive manufacturing systems. Current inquiries range from prototype production to series production.
With ADAM, you were present at K 2022 – What could visitors see at your booth?
Pelzer: During K 2022, we presented our latest manufacturing cell. It combines our advanced screw extruder with an articulated arm robot from Stäubli and a heatable build platform. The highlight was a stool made of wood fiber-filled biopolymer manufactured using the ADAM process, which visitors were able to test on site. This stood out due to its load-compatible design, material-efficient and fast production (2 hours) and sustainability (fully biodegradable).
What feedback did you receive at the trade show?
Pelzer: The feedback during and after the trade show was consistently positive. The ADAM technology and its advantages, especially the utilization of the spatial degrees of freedom, were met with particular interest by the booth guests and opened up many in-depth discussions. Personally, I always find it particularly exciting to hear about the visitors' special use cases. Often, new areas of application for the technologies on display emerge in such discussions that go beyond the use cases envisioned during development.
Nastassja Lotz (Editorial team K-MAG)
Ref: Click Here