According to the titles published at the new press release of AMAPLAST on behalf of green packaging, the following text written by Giampiero Zazzaro of MACPLAS was selected for our readers due to its rich content.
**************
Sabic deems that plastics have not to be put in the environment, neither in the landfills nor in the oceans, but they have to be processed and reused. In order to realize this project the Saudi multinational company has decided to create a product line named Trucircle also exhibited on the occasion of the last edition of K 2022 (Düsseldorf, 19-26 October).
Considering the importance of the packaging role within the activity of Sabic and how this industry is fundamental for the circular economy, Packaging Speaks Green staff has decided to meet Marilena Pezzuto, engineer and market development specialist in the packaging department of Sabic Europe, on the occasion of the show, who described the company's most recent innovations focusing on the circular economy concept.
Could you tell us something about Sabic's sustainability approach?
As regards sustainability and recycled materials, we have certified circular materials as well as renewable ones. In this regard, it is really important to us to understand where this material comes from. Indeed, we use several feedstocks for different kinds of materials. First of all, when we talk about renewable materials, Sabic uses paper waste as a renewable feedstock. It becomes oil which we combine with fossil oil to obtain our resins, which are thus renewable materials. Here you can see some examples of certified renewable materials. It is very important to realize that renewable materials reduce our carbon footprint, because every kg of renewable materials that we use translates into a reduction in CO2 emissions.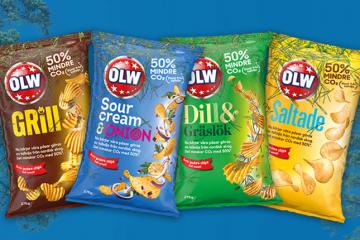 Would you describe some of your novelties about sustainable packaging?
Nowadays, the various brand owners along the supply chain are environmentally conscious and use renewable materials. Sabic likes to be engaged with all its collaborators along the supply chain. As you can see, we have displayed several finished products in our booth. For example, this chips packaging is produced in cooperation with Orkla (supplier of branded consumer goods) and Irplast (producer of BOPP films). This material is completely recycled and used in BOPP film applications. Sabic has a huge portfolio, so when we talk about European portfolio materials we are able to have the same standard materials both as certified renewable and as certified circular.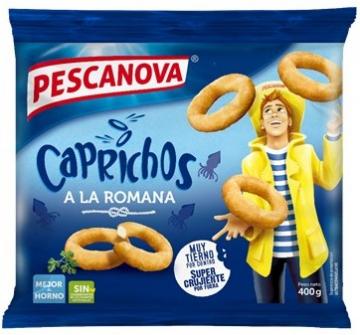 Let me give you another example. Thanks to our collaboration with Pescanova Group (a multinational company which sells fish) we use certified circular LLDP and LDPE materials derived from ocean-recovered plastics. One of our partners collects the materials from Malaysian coasts. In this case our feedstock is pyrolysis oil (oil which comes from mixed plastic waste) obtained from an advanced recycling process. This pyrolysis oil is very important to us because we use our fossil oil and we obtain certified circular Sabic materials. This is a very compelling example, because Pescanova Group decided to pack seafood really using plastics recovered from the ocean.

Other examples include Chanel packaging. In this case, the packaging is made of renewable materials but not mixed plastic waste. Instead we use tall oil from the paper industry. This is a fully renewable material, the container and the cap as well. In this case, you save 76 g of CO2 emissions for each packaging. If you think about future CO2 emissions and the reduction that you can get just using renewable materials, it's clearly something worth thinking about and planning for.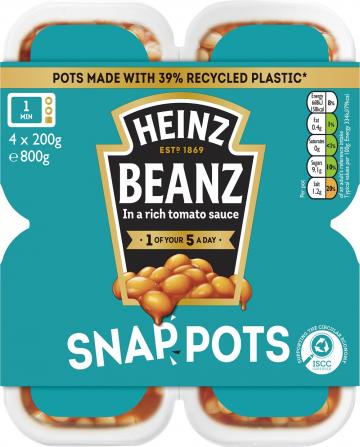 Would you tell us what closed loop is?
The closed loop is one of our many initiatives about circular economy. It means that we engage with all the stakeholders of the supply chain. For example, we collaborate with Tesco (food retailer), Heinz (food processing company) and Berry (packaging producer) in the UK  to create a certified circular solution in PP for Heinz Beanz Snap Pots. Tesco collects the soft plastics, subsequently our partner Plastic Energy produces the pyrolysis oil and then Sabic produces the resins. Afterwards, Berry produces the cups and then there is Heinz which fills them, seals the films, and packs everything. Finally, this material goes back to Tesco which sells it again. This procedure generates a circular cycle which doesn't produce any waste but new materials and new applications. The success of this project depends on us. If we are responsible consumer and we put the package in the right waste-sorting bin we will be able to close the loop again. What I've just described is also printed on the top: "The pots are made with 39% recycled plastic. It consists of certified circular material made by using pyrolysis oil and mixed plastic waste". Moreover, if you scan the QR code, you can access descriptions and details about the snap pots and how they are made.
Will you further expand your production in Europe?
We are building two plants for the production of the certified circular material in Geleen, which is close to Maastricht in the South of the Netherlands. They will be finished by the beginning of 2023. It's the first commercial unit for advanced plastics recycling. One plant is devoted to the production of the pyrolysis oil and the other one is used for the agro-treatment process to ensure high oil quality.
In sub-Saharan Africa there are 19 of the 50 largest landfills in the world, where waste is burned to make room for incoming waste, with evident damage to the local area. Does Sabic have any planned investments in environmental protection in this area?
We are trying to get materials out of the landfill, partly within the circular material concept. We don't want that raw material go into the landfill, and we try to get material that does back out again. That is more or less what behind our circular concept and in particular our certified circular materials.

Our advanced recycling and loop projects are all proof-of-concept, all demonstration plants. Our idea is to take the very small volumes that are now being produced and upscale them. These projects are helping us learn how to do that in the different regions, so we can't tell you about any specific investment plans for the future. The idea is we want to grow this not just in Europe – which represents the innovation hub – but also to roll it out beyond. Sabic is present globally, so I think that it can expand its production also in the Sub-Saharan region in the future.