Few Iranians Ahead to Pudong Now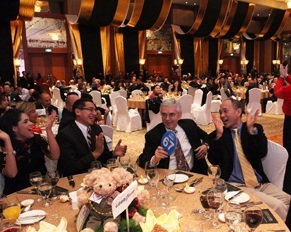 About an hour before closing of the first day of the 2nd greatest Plastics & Rubber Exhibition (03:00 pm in Tehran/Iran), some of the few Iranians who were previously informed of the special Banquet were prepared to attend this very highly attractive ceremony on the occasion of the 30th anniversary of CHINAPLAS 2016.
The Banquet is now running at Grand Shanghai Ballroom 1, Level 3, Kerry Hotel in Pudong area, Shanghai. Located next to the SNIEC Entrance Hall 2, the event has been most welcomed by several hundreds of exhibitors and visitors which had registered to participate till a couple of days before the Exhibition's inauguration.
As a matter of fact. many foreign exhibitions are the best excuse for the Iranians to enjoy their lives in an open area, and so this first day's event of CHINAPLAS is the one that is very appreciated by Iranian visitors of CHINAPLAS.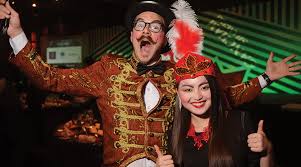 Release Date 25 April 2016
Visit Chinaplas Here
About Chinaplas:
The 30th International Exhibition on Plastics and Rubber Industries
Date
25-28 Apr, 2016
Opening Hours
09:30 – 17:30
Venue
Shanghai New International Expo Centre, PR China (Pudong)
(2345 Longyang Road, Pudong, Shanghai, PR China (Postal Code: 201204)
Organizer & Co-organizers:

Adsale Exhibition Services Ltd.
China National Light Industry Council – China Plastics Processing Industry Association
China Plastics Machinery Industry Association
Messe Düsseldorf China Ltd.
The Plastic Trade Association of Shanghai
Beijing Yazhan Exhibition Services Ltd.
Sponsor:

Europe's Association for Plastics and Rubber Machinery Manufacturers (EUROMAP)
Overseas Supporter:

Association of Japan Plastics Machinery
Chinese Supporters:

Anhui Province Plastics Association
China Rubber Industry Association
Fujian Plastics Industry Association
Guangdong Plastics Industry Association
Jiangsu Plastics Processing Industry Association
Jiangxi Plastics Industry Association
Shandong Plastics Industry Association
Shenzhen Polymer Industry Association
China Taizhou Plastics Industry Association
Zhejiang Plastics Industry Association
16 Theme Zones to Facilitate Successful Sourcing of Buyers:
•
Additives Zone
•
Automation Technology Zone
•
Auxiliary & Testing Equipment Zone
•
Bioplastics Zone
•
Chemicals & Raw Materials Zone
•
Chinese Export Machinery & Materials Hall
•
Colour Pigment and Masterbatch Zone
•
Composite & High Performance Materials Zone
•
Die & Mould Zone
•
Extrusion Machinery Zone
•
Film Technology Zone
•
Injection Molding Machinery Zone
•
Plastics Packaging & Blow Molding Machinery Zone
•
Recycling Technology Zone
•
Rubber Machinery Zone
•
Semi-Finished Products Zone