According to a claiming expert (60 Minutes producer Michael Gavshon) ; "The world's largest collection of ocean debris is also the most famous, but its name, the "Great Pacific Garbage Patch," is a misnomer". So we are trying to have a closer look at what this expert has claimed about.
For starters, it's not one giant patch.
"It's not a mass. It's nothing you can see from space, all these things one's heard," 60 Minutes producer Michael Gavshon", said in a video, "But in fact it's just a giant soup, a gyre. It's a whirlpool of tiny fragments of plastic in the ocean at various depths."
Along with 60 Minutes associate producer David Levine, Gavshon produced a report this week on the plague of plastic in the ocean. While on Midway Atoll, they spoke with the National Oceanographic and Atmospheric Administration's Kevin O'Brien, who oversees marine debris removal in the part of the Pacific between California and Hawaii. O'Brien said that when he sailed through the Garbage Patch, he noticed an uptick in the amount of plastic he was seeing all around him, but it wasn't quite an island of trash.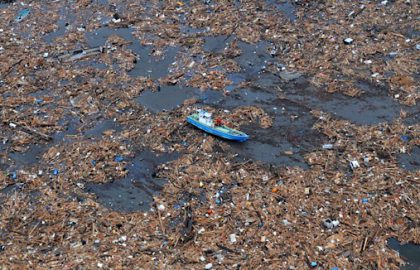 "I saw lots of things floating in the water — a large derelict fishing net, a ghost net, or I might see a bottle or a crate" he said. "Even if the debris isn't so intense that it's a floating mat of trash, even if it's more disperse than that, it could still hold an enormous amount of plastic."
O'Brien said plastics floating in the ocean are exposed to several environmental factors — including waves, reefs and rocks — that cause them to break down into smaller fragments, which are difficult to clean.
"The plastics spread out," Levine said. "It's under the surface. It's not an easy thing to mop up. If it were a garbage island, I think it probably would be much easier to clean up."
Kevin O'Brien of the National Oceanographic and Atmospheric Administration CBS NEWS.
************************
Why Should Be "A Paid-Subscriber" and "Advertiser"
Keeping an independent media in countries that impose limitations on self supporting media, will help to support the humankind's freedom. If you believe it, please act to be a PRO-MEMBER by clicking "HERE", or:

Please send your PR's directly to the email address of the Chief-Editor in order to be published at once in the world via " https://pimi.ir " The address is: aasaatnia@live.com.
Hits: 25