SABIC: PP grade introduced for production of injection moulded rigid packaging / Improved balance in stiffness and impact strength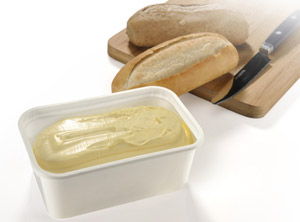 The range of "Flowpact" PP impact copolymers from Saudi Arabian polymer major Sabic (Riyadh; www.sabic.com) has been extended with a grade developed to help manufacturers of many types of injection moulded rigid packaging produce stronger products while reducing costs. Rigid packaging made with "Sabic" PP FPC45, including types that can be hot-filled, has considerably higher top-load strength than identical products made with current benchmark materials, the company said, improving stacking and providing economies in transport and storage.
Sabic said the grade incorporates advances in polymer chemistry that produce a material with an improved balance in stiffness and impact strength. Good flow properties allow thin walling and fast injection along with a higher crystallisation temperature that enables parts to be removed from the mould more quickly, reducing energy consumption and increasing productivity.
The grade has been developed for production of rigid packaging with volumes from as low as 200 ml up to around 10 litres. It can be used for containers intended for packaging foods and non-food products and in the production of caps and closures as well as housewares.