Iranian President Hasan Rouhani (Fereydoon) cheered Italian businessmen and Italian companies by saying that: Italians have done their duties very well, they have done very well" and we hope to expand our trade relations with them. President Rouhani today's visit to Rome is as follow:
Iranian President Hassan Rouhani said that relations with Italy go beyond bilateral significance and can contribute to security and stability in the Middle East, Mediterranean and North Africa regions.
He made the statements in Rome on Monday evening during a joint press conference with Italian Prime Minister Matteo Renzi in which he also hailed Italy's positive role the settlement of the dispute over Iran's peaceful nuclear program.
The Italian premier termed the two countries as superpowers of beauty and culture and called for an increase the ties further than traditional oil and gas industries.
Iran can be the hub of security, energy, human resources and development, and geopolitical importance, Rouhani said, welcoming Renzi's comments.
If it were not for Iran's pioneer role in the fight against terrorism in the region, the world would have been witnessing more difficult conditions for peoples of Iraq, Syria, and Afghanistan, he stressed.
Saying that Iran and Iraq have been cooperating for peace and security in Afghanistan, the Iranian president said that there is no military solution for the problems in the region.
'The Joint Comprehensive Plan of Action can be a an example to be followed for the settlement of regional issue,' he said referring to the nuclear agreement between Iran and world powers.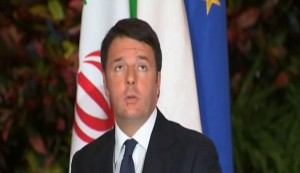 The Italian prime minister expressed his country's satisfaction over President Rouhani's visit and signing of cooperation agreements and contracts.
He said Tehran and Rome enjoy historical relations that have resulted in the friendship of the Iranian and Italian nations.
Prior to the press conference, Iran and Italy signed contracts, MoUs, and agreements worth billions of euros.
President Rouhani and Premier Renzi were overseeing the signing ceremony of the bilateral cooperation documents by ministers and other high-ranking officials of their respective countries.
Earlier in the day, President Rouhani met Italian President Sergio Mattarella during which he said Iran is keen on expansion of cooperation in post-sanctions era, including joint venture investments, transfer of technology and manufacturing export-oriented products.
President Rouhani is scheduled to visit Vatican and meet world's Catholic leader Pope on Tuesday.
The four-day state visit, the first by an Iranian head of state after implementation of the nuclear Joint Comprehensive Plan of Action (JPCOA), will also take Rouhani to Paris for expansion of bilateral ties with European countries after removal of anti-Iran sanctions.
Negotiations will focus on bilateral relations as well as regional developments as Iranian and European statesmen in Rome and Paris are scheduled to confer and sign agreements and contracts on energy, economic, industrial and trade relations.
Other Reports:
'Iran and Italy have so much commonality that expansion of the level of cooperation between Tehran and Rome seems like an easy job to accomplish,' said President Rouhani in his meeting with President Sergio Mattarella.
'During the years of the past decade due to the unjustly and wrongly imposed sanctions the two countries could not use their possibilities and capabilities properly and it is now time to make up for that loss in light of cooperation and interactions to secure both nations' interests.'
'Iran and Italy can invest in various energy, industrial, mining, agricultural, scientific and cultural exchange and new technologies' fields and establish very broad cooperation in joint venture investments,' he said.
President Rouhani said that the roots of instability in the region come from hegemonic powers and that Iran is a stable and democratic country attaching great importance to improved relations with Europe and particularly with Italy under the new atmosphere.
The Italian president expressed pleasure with being the first European head of state to host President Rouhani after the formal implementation of the nuclear agreement, JCPOA, saying that this is another sign of deep friendship between the two nations.
'Italy is determined to boost its friendship and expand its cooperation with Iran,' added president Matarella.
The Italian president said that he shared President Rouhani's views on need for international campaign against terrorism, expressed satisfaction that the sanctions are terminated and expressed hope that Iran will play its stabilizing role in the region.