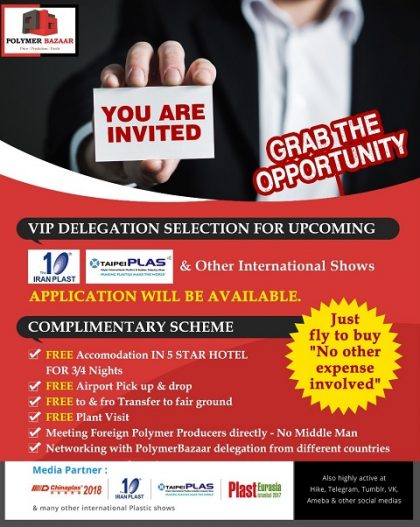 India a vacillatory trading country for Iran is enjoying of some very active companies that have special privileges in Iran in comparison with other countries of the world, even China. For the fourth year, the "Polymer Bazaar" a trading company active in social events, has announced his plan for Free of Charge visiting of IranPlast.
The company has announced that those who are interested to visit the 12th IranPlast international exhibition and communicate with them will have the chance to visit this event totally free. As per the announcement of the Polymer Bazaar Indian company the offer is including: Air transfer Airport transfer, 3/4 nights staying in a 5* hotel, Free entrance. etc..
Of course PIMI is not sure if the offer is open for other nations. Please re-check with the organizer (Polymer Bazaar).
Also it is a wondering question – even for Iranians- that who is supporting such a huge budget? Indian Government? Not possible. Iranian Government? Not at all. But who? We definitly confirm that it is from a budget that belongs to the Iranian exhibitors and financial supporters, at this harsh downturn of the Iranian economy!
The company introduces itself as:
POLYMER BAZAAR– is a leading information services provider for the Plastics & Polymers Industry.We offer all news alerts by E-mail Alerts ,Whatsapp, SMS Alerts, Mobile application along with web site access at most reasonable annual subscription.
We are committed to deliver up-to-date information of the highest possible quality enriched with accuracy and value to our readers.The contents are actively managed on a daily basis by our editorial staff from many international & local sources.
We offer premium business and research content in a unique combination with powerful databases and search tools for finding industry-related information.Plastics manufacturers ,Polymer traders,importers & known leaders from & within the industry rely on the information services provided by your own "POLYMER BAZAAR" for your daily Purchase / Sale.
Polymer Bazaar is dynamic media & aggressively meeting all milestones of successful brand among industry.Our core business is media activity with revenue generation model from subscription mainly.Advertisement revenues are targeted on 2nd priorities,since we are also engaged in Polymers trading since  last 19 years at Ahmedabad. Hence,our high ambitious goals doesn't permit us to accept only advertisement revenue -which may be foremost criteria for other medias.Polymer Bazaar will act as a supporting agency to your association in order to deliver best results.
***************
Keeping an independent media in countries that impose limitations with a paid subscription, will help to support the humankind's freedom. If you believe it please act by clicking "HERE", or: