Russian Negotiation for Polymer Stock Exchange in Moscow

Scheduled a day before, on Sat. April 16th, Dr. "Rajab Safarov" and the CEO of this PIMI Portal managed a constructive meeting with 4 members of the management board of Association of Petrochemical Industry Companies (APIC) in order to review the potential possibilities of exporting diverse petrochemical materials to Russia.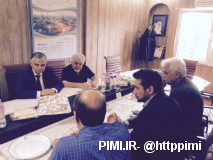 Dr. Mahadvi the CEO of the APIC, Eng. Ehtiati, Eng. Sahafzadeh, and Mr. Afzali were the APIC management bodies who participated at the meeting. This 90 minutes meeting was later considered as very constructive and fruitful due to the both side's unique powers at their territories: Dr. Safarov enjoys his international prominent face because of his TV interviews and his expertise in the Political /Economical information about Iran as well as his back-ups at the Russian Parliament and two running media, and the Iranian side at APIC Co. through their authorities in the country's administrative structure.
As per decisions made, each party has accepted to follow some studying and analysis of existing barriers in his country as a material for the next meeting.
Dr. Rajab Safarov aims establishment of a polymer stock exchange in Moscow / Russia.
The photo gallery of the event could be seen here: