Why and Where the Iranians are spending their money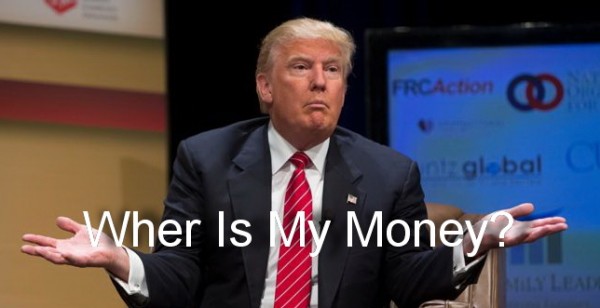 According to 360 Degrees TV Show from New Hampshire, Senator Trump -a probable US Presidential election campaign- has show his anxiety for "Why and Where, The Iranians are spending their Money?" during an interview!!
After checking of several speech-photos of S. Trump, we (PIMI Editorial Team in Tehran) found that, irrespective of S.T.'s interference with Internal Affairs of Iran, what he knows more than other "US Candidates" in their Presidential competition, is a famous American word (used almost in every American films, and even their Live TV shows) which starts with "F" and ends with "K"??!! Before reading the excerpts of the main news, PIMI readers may imagine the "Word" by looking at the following photos and his mouth trying to start with the word "F":
And, this is the briefing of Senator Trump's claims:
"Instead of buying Boeing airplanes from the United States, Iran is spending the money Washington has released, to procure the European Airbus planes, says US Republican candidate Donald Trump"
'They bought 118 airbus planes, not Boeing planes, they're spending all of their money in Europe,' Trump said during an interview in New Hampshire with Anderson Cooper's 360 television news show aired recently on CNN.
'They're giving Russia big chunks of money for missiles,' said the firebrand candidate who has been very critical of the nuclear deal between big powers and Iran, known as the Joint Comprehensive Plan Of Action, or the JCPOA.
'I don't even know if they are allowed to buy missiles. Why are they allowed to buy missiles? It's so unfair and so incompetent,' the Republican said.
'We're handing over $150 billion. We get nothing. So many horrible things are taking place' Trump added, referring to the US's unfreezing of Iranian assets.
He added that the United States has trillions in debt.
'We have $19 trillion in debt. Nobody even knows what trillion means. We have $19 trillion in debt,' he said.
Trump Leads in Polls in New Hampshire while Bernie Sanders leads the Democratic race.
This imaginary photo is from: snopes.com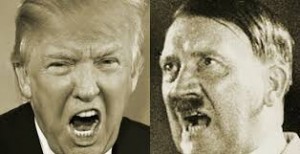 The above SOURCE has published an article which says:
"A fake news article claimed that Donald Trump was related to Adolf Hitler"!!